On September 19 of this year, the armed forces of Azerbaijan conducted a military operation in Nagorno-Karabakh. According to its results, the very next day, September 20, the pro-Armenian authorities agreed to withdraw the military, disband and completely disarm the formation of the «Nagorno-Karabakh Defense Army» by the end of this year. In fact, this pro-Armenian administration on the territory of Nagorno-Karabakh, not recognized by any UN country, ceases to exist, and Karabakh itself de facto returns to Azerbaijan. Its secession and «independence» were proclaimed in the early 1990s after bloody clashes, pogroms and migrations, and in 1994 the conflict was frozen by the signing of a «truce».
Until September 19 of this year, the majority of the population of this region was Armenians, but after the hostilities this autumn, they left it - we are talking about the departure of hundreds of thousands of Armenians. At the same time, as a result of the latter, before the September 19 conflict, there were two thousand Russian «peacekeepers» in Karabakh, who, however, did not interfere with Azerbaijan's operations, as Armenia had hoped.
After the defeat in Armenia, protests against Pashinyan's government resumed, which Russia used to destabilize the situation in Armenia. The Kremlin creates a negative image of Pashinyan's government, which agitprop portrays as a «puppet of the West», because since the 2020s, after several clashes with Azerbaijan, Armenia began to cooperate more with the West, for example, joint military exercises with the USA were held in September.
Also, at the beginning of October, already after losing the Karabakh war, Armenia ratified the Rome Statute, and at the end of October, the Secretary of the Security Council, Armen Hryhoryan, took part in a meeting on the Ukrainian Peace Formula in Malta. This is the first time that Yerevan took part in a similar meeting, which had previously been held in Copenhagen and Jeddah.
In an interview with Detector Media, research assistant of the Digital Forensic Research Lab, Atlantic Council, Ani Mejlumyan, told more about the narratives of Russian propaganda regarding Armenia, the September 2023 war in Nagorno-Karabash, and unsuccessful attempts at negotiations between Baku and Yerevan.
—What were the main narratives of russian disinformation during the Karabakh escalation in the mid-September?
—The main Russian disinformation narratives that DFRLab has identified and analyzed during Azerbaijan's attack on Nagorno-Karabakh after ten months of blockade followed by ethnic cleansing were:
Narrative (1) Pashinyan «ceded» Karabakh to Azerbaijan. In this narrative, the Kremlin and its propagandists deflected from Russia's responsibilities, putting it all on Pashinyan. Russia's MFA released a statement that claimed that Pashinyan in 2020 recognized Karabakh as part of Azerbaijan, and since Russia could do nothing. This statement is clearly false. Pashinyan merely said he was willing to recognize Karabakh as part of Azerbaijan, and the conditions were to ensure people's rights in Karabakh as well as recognize Armenia's sovereign territory within its borders, which has been consistently threatened and invaded by Azerbaijan since 2021.
Narrative (2) The West has an interest in destabilizing Armenia, Russia has recycled this narrative specifically in the former USSR republics, such as Moldova, Georgia, Ukraine, and now more intensively than before in Armenia.
In a broader context, Russia's goal is to prove that democracy equals security threats, lost territory, defeat, and economic setbacks. To convey this goal in the case of Azerbaijan's latest attack on Karabakh, where Russia has its 2000 peacekeepers stationed to this day, Russia framed the argument to blame the government for mainly three things. Pre-agression, in the beginning of September, Moscow summoned the Armenian ambassador to Russia and gave a complaint note or harsh warning over «unfriendly» steps. These included planned participation in joint military drills with the United States starting September 11, Pashinyan's wife first humanitarian visit to Kyiv, and Armenia's commitment to join the Rome Statute of the International Criminal Court (ICC), which has issued an arrest warrant for Putin.
Dmitriy Medvedev in his Telegram post after the attack claimed that Pashinyan blamed Russia for the «mediocre defeat» meanwhile Pashinyan blamed Russia not for Karabakh but for Armenia when invoked CSTO Article after Azerbaijan's attack on Armenia in 2022. Then Medvedev claimed that Pashinyan «gave up part of the territory of his country» which also was a manipulation since, Medvedev said Pashinyan «decided to flirt with NATO», and «his wife defiantly went to our enemies with cookies» and concluded «Guess what fate awaits him…»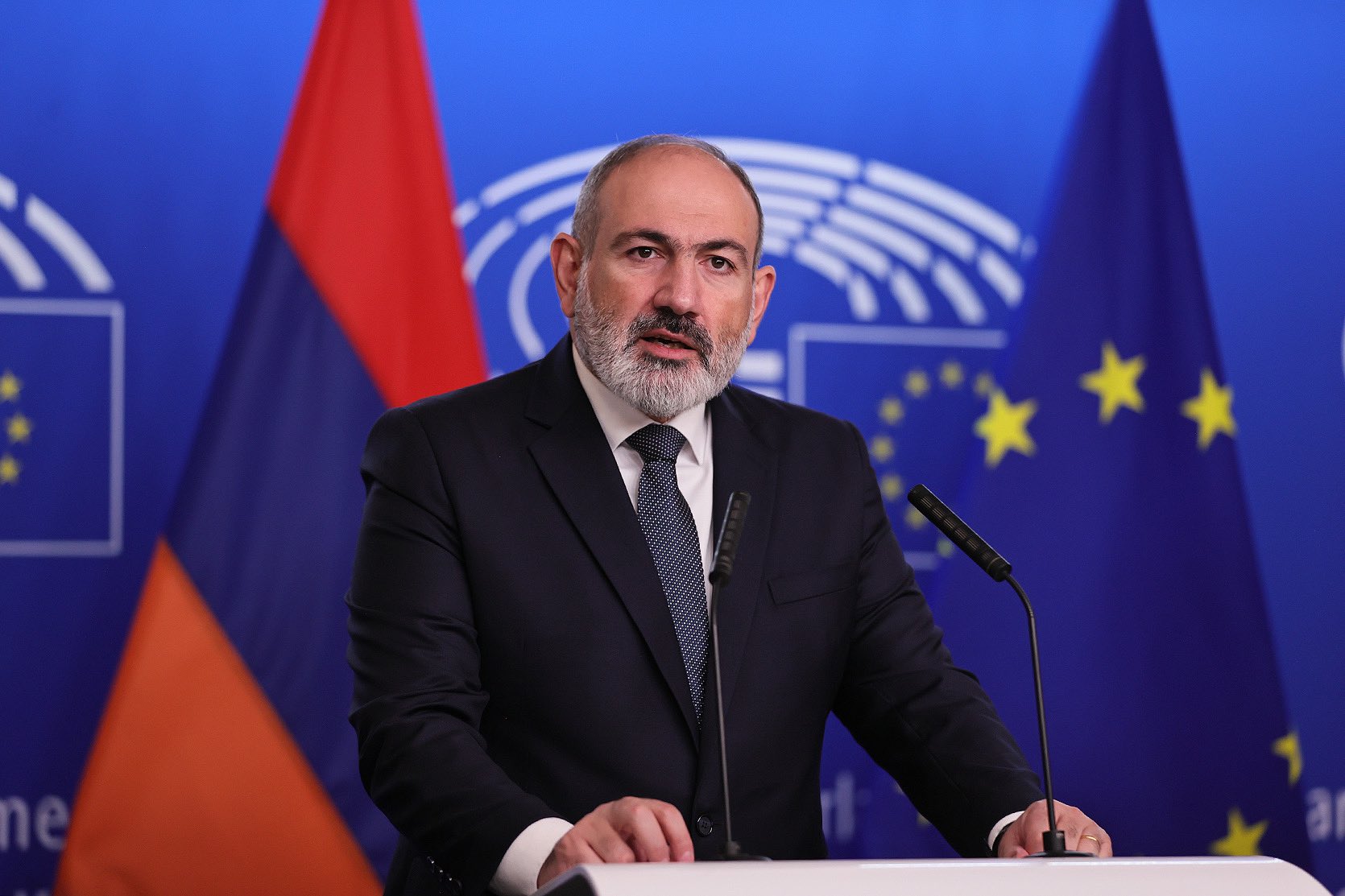 This post had 2.7 million views at the time when we were monitoring and was forwarded to more than 600 Telegram channels and groups, including another very popular channel operated by Vladimir Soloviev.
Additionally, on September 20, as reported by Meduza, the Kremlin gave instructions on how to cover the attack; these directives primarily centered on conveying two key messages: attributing responsibility for the situation to both Pashinyan and Western entities while emphasizing the role of Russian peacekeepers as protectors of the Karabakh Armenian population.
Narrative (3) Russia is a peacekeeping force.
As Pashinyan criticized the peacekeepers, calling them ineffective, Russia's propaganda machine started publishing glorifying videos how the peacekeepers were evacuating the residents of Karabakh.
—What is the place of Ukraine in ru propaganda in Armenia?
—The generally used phrase is «Ukranization». Kremlin and propagandists claim Armenia awaits the same faith because its «flirting with the West and NATO» it has a leader «from the streets through color revolution».
Through years of propaganda and, specifically, the post-Karabakh situation, the campaign against Armenia has intensified. What we observed in the recent past is that individuals in Armenia with pro-Russian affiliations are disseminating inaccurate and deceptive stories that establish unfavorable comparisons between Ukrainian President Volodymyr Zelenskyy and Armenian Prime Minister Nikol Pashinyan. These narratives align with recent declarations from the Armenian government, which have emphasized a desire to distance itself from Russia.
However, not just individuals but political parties, mainly the opposition in Parliament, media controlled by the opposition had portrayed Russia's war against Ukraine to be Ukraine's fault, repeating Russian propaganda verbatim. Notably, the war in Ukraine has weakened Russia, and ultimately, Russia wasn't just unwilling, but it also was unable to defend the Armenian interest and fulfill its obligations as its dependence and interest now are more aligned with Azerbaijan and Turkey.
—What was the reaction of Russian propaganda on the ratification of Rome statute by Armenia?
—As I mentioned above, Russia blamed Armenia for Rome statute ratification; meanwhile, that process in Armenia started before the (full-scale) war against Ukraine and after Azerbaijan's invasion into Armenia in 2021 and 2022 (not Karabakh but Armenian sovereign territory.) It is important to understand that the Rome statute itself is not a reason but an excuse. Russia wants the Armenian public to believe that things like the Rome statute and overall turn to the West have nothing to do with Russia's inactions but everything to do with what they call Armenia's Western puppet government. This is one of the most recent reactions.
Russian propaganda blames Armenia's government and civil society (aka Soros people) on almost an hour-long program the State 1st channel. Notable comparisons here were the comparisons with Ukraine's comparison between Saakashvili and Pashinyan. Hard focus on how the US is behind all this, the government is a Western puppet. Another important note is that they are trying to prove Pashinyan has a mental disorder, he is mentally unstable. I'm sure this is very familiar when we look back and see how Russia tries to portray Zelenski as an addict.
—How is Russia manipulating the Karabakh conflict to destabilize the situation in the Caucasus region?
—For decades, the Soviet-designed borders caused conflicts, and later, Russia kept ripping the products through frozen conflicts and occasional wars, which kept the Caucasus primarily dependent on Russia to supply the economy, weapons, and mediation.
However, Karabakh is now fully under Azerbaijani control, and ultimately, Baku will decide if Russia will continue its presence there. The Karabakh conflict after the Azerbaijani takeover has taken Russia's leverage somewhat for the time being.
Stability that is defined by democracy, is threatened by Russia as it calls to join the protests against the government and install the so called patriotic leaders. Many of those «patriotic leaders» serve Russia's interests.
The interest is to keep Armenia and Azerbaijan dependent and also to prevent a scenario of 2000s in Georgia, when Russia lost influence. In the post-Ukraine invasion world, the lines are more defined now; Armenia, ultimately for its own security first and democracy second, can't really on alliance with Russia, and it has to make a choice. Now clearly, Russia doesn't want to lose its foothold in Armenia and territorial claims of Azerbaijan backed by Turkey against Armenia are a major concern, as it could turn into a war and a much bigger one than we saw in Karabakh over the past few years. Ultimately, if Armenia's security is threatened and the West is no help, Russia could achieve a regime change in Armenia and install pro-Russian leaders mascaraing as nationalists, and patriots.
—When is the reconciliation of Armenia and Azerbaijan possible in your point of view?
—Theoretically, it is possible. However, there needs to be a strong political will, which was always lacking in this conflict. The Karabakh conflict was used domestically in Armenia and Azerbaijan to bring people to power to topple governments historically. Currently, Armenia has the political will, but constant threats against its own territory sabotage that. Azerbaijan hasn't made any concrete steps and refused to negotiate peace after the Karabakh conflict; I'd say a lot dependence on Azerbaijan.
Also this conflict has touched so many lives and generations on both sides that political will to sign a treaty that somehow can bring a dignified peace is not enough. There is a need to stop the dehumanization of the other side, as well as to prepare populations for peace, none of which seems to be on the agenda at the moment.